Holcim to help Iligan City in waste management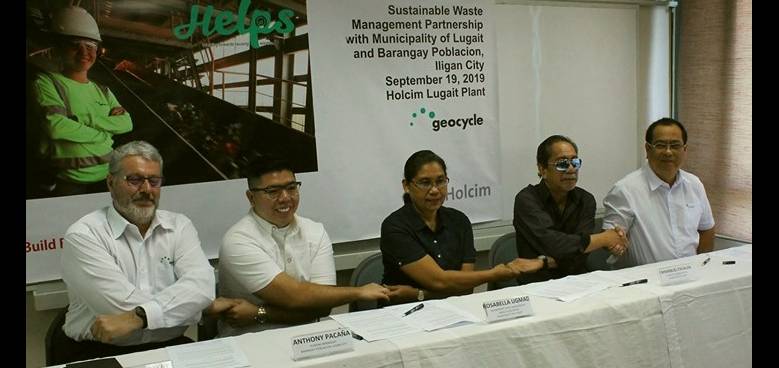 From left, Holcim Philippines Vice President for Geocyle Frederic Vallat, Barangay Poblacion, Iligan City Chairman Anthony Pacaña, Lugait Municipal Agriculture Office Head Rosabella Ugmad, Municipal Administrator Emmanuel Pagalan and Holcim Lugait Plant Manager Bobby Garza link hands after the signing ceremony to mark the partnership
Leading cement maker Holcim Philippines, Inc. and its waste management unit Geoycle will help Barangay Poblacion of Iligan City manage its municipal wastes in a sustainable and environmentally sound manner by using qualified materials to produce low-carbon fuels which will be used in cement manufacturing.
Under the partnership, the local government of Barangay Poblacion will send to Holcim's plant in Lugait, Misamis Oriental plant for pre- and co-processing non-hazardous and low-moisture residual wastes such as plastics, laminates, textiles, and rubber. Geocycle will also extend technical assistance and training on proper waste segregation and packaging to employees of Barangay Poblacion's materials recovery facilities.
Barangay Poblacion will become the second community after the municipality of Lugait that is provided waste management assistance by Holcim Philippines in Northern Mindanao. Last year, the Lugait plant pre- and co-processed close to 1,500 tons of sorted municipal solid wastes. Geocycle has also been providing waste management assistance through Holcim's plant in Norzagaray, Bulacan to several municipalities and cities in Central Luzon and Metro Manila.
"We believe that co-processing is an effective and sustainable tool in addressing the waste management challenges of the country. Holcim Philippines is committed to further developing partnerships with local governments and raising awareness about the advantages of co-processing to further raise our contribution to lessening wastes that go to landfills," said Holcim Philippines Vice President for Geocycle Frederic Vallat.
Co-processing is a government-approved and globally-recognized waste management technology that repurposes non-recyclable qualified discarded materials from various industries into alternative low-carbon fuels and raw materials used in cement kiln. Among the environmental advantages of co-processing are the extremely high temperatures of kiln and longer treatment time materials that prevent formation of harmful gases. There are also no residues to be landfilled.
Holcim Philippines is committed to increase its use of low-carbon fuels in cement manufacturing to reduce carbon emissions, cut use of virgin raw materials and contribute to managing wastes in the country in a sustainable manner.