Holcim to help UN Habitat, TESDA in Marawi rebuild project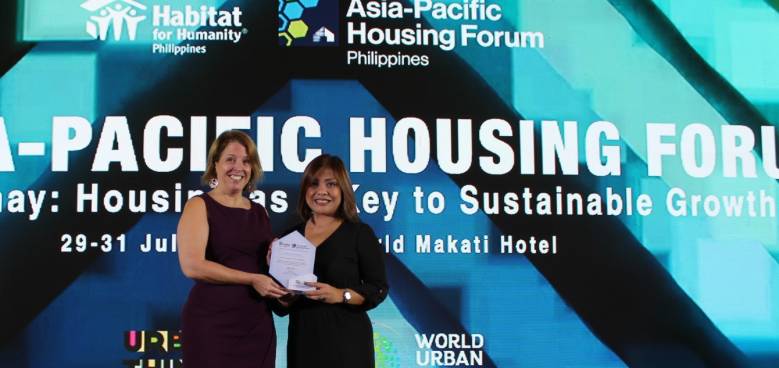 Habitat for Humanity Philippines CEO Kelly Koch hands a plaque of appreciation to Holcim Philippines Vice President for Communications Cara Ramirez for her insights on the company's contribution to providing better shelters for Filipinos. Ramirez was a speaker during the 7th Annual Pacific Housing Forum, the largest housing convention in the Philippines. She discussed the company's program to equip housing beneficiaries with skills to help build their own homes and products to raise the quality of buildings while keeping costs down.
Leading cement maker Holcim Philippines, Inc. will support a project by the United Nations Human Settlement Program (UN Habitat) and the Technical Education and Skills Development Authority (TESDA) to build new homes for 1,500 families displaced by the conflict in Marawi.
Holcim Vice President for Communications Cara Ramirez shared during the 7th Annual Asia-Pacific Housing Forum organized by Habitat for Humanity Philippines on July 31 that the company is set to fund masonry training for 300 beneficiaries.
UN Habitat will be responsible for recruiting the beneficiaries from among the residents of identified resettlement sites and coordinating logistics for the project. The TESDA, through its Regional Training Center in Iligan City, will administer the masonry course and certify as skilled workers those who pass.
Ramirez said the partnership with UN Habitat and TESDA is in line with the company's corporate citizenship campaign, Holcim Helps, which tailors capacity-building support based on the needs of beneficiaries so programs are more sustainable and have a lasting positive impact.
"Holcim Helps focuses our efforts on education, livelihood, and infrastructure programs, which are designed in collaboration with our communities so we can identify the programs that are relevant to them and answers their needs," she added.
Ramirez shared that Holcim Philippines had extended similar support to communities displaced by a natural calamity such as survivors of Typhoon Pablo in Compostella Valley in 2012 or vulnerable to one as the case of people living near the company's Davao plant. The support for masonry trainings were implemented through Holcim's flagship Galing Mason program, which equips beneficiaries with skills that allow them to contribute to the rebuilding of their homes and provides them options for livelihood.
Ramirez shared these as part of her talk on the company's efforts to contribute to addressing the deficit of quality shelters in the country. She noted aside from providing quality cement to ensure the durability and quality of shelters being built, Holcim Philippines has also developed new products for specific applications that contribute to improving quality and reducing cost of construction.
"For example, local developers have grown to embrace masonry cement, which is better for finishing applications and more affordable than general purpose cement. While cement only accounts for roughly 10% of building costs, the savings from using the right cement can still help developers manage costs while also delivering quality shelters for their customers," she said.
A biennial conference organized by Habitat for Humanity Philippines, the Asia-Pacific Housing Forum gathers both public and private stakeholders engaged in finding solutions for inadequate shelter issues and promoting affordable housing as a driver of economic growth. For this year's forum, the newly formed Department of Human Settlements and Urban Development was the content partner.