Holcim Philippines, DCACI inks cement supply deal to support Mindanao development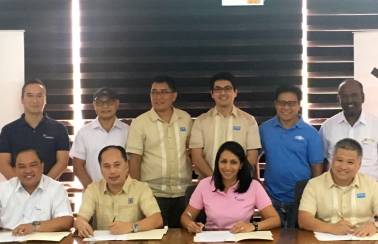 Building solutions provider Holcim Philippines, Inc. has sealed an agreement to supply the cement requirements of a leading group of builders in Mindanao in 2018 to support the sustained development of the region.
Holcim Philippines will provide up to 320,000 metric tons of cement to the Davao Constructors Association Center, Inc. (DCACI), composed of 179 general contractor and builder companies operating in southern Mindanao. The company provided 220,000 metric tons of cement to the group last year.
Through the program, DCACI members can purchase cement at a discount from Holcim's Davao plant or its designated warehouses in southern Mindanao.
DCACI President Michael Te thanked Holcim Philippines for the sustained partnership, and commended the company's responsiveness to its members' needs for pricing support, fast and efficient services, quality products and safe and secure deliveries.  
Holcim Philippines President and CEO Sapna Sood said the program demonstrates the company's support for DCACI as it takes on projects in line with the national government's infrastructure push in the region.
"We are proud to be a partner of DCACI in the development of Mindanao.  Through this program, we are able to give DCACI the proper support to help its members build better with certainty the essential structures for the region," added Sood.
The Department of Public Works and Highways received a budget Php 640 billion this year, a 40% increase from 2017 as part of the government's commitment to upgrade the country's infrastructure. Mindanao is expected to receive a larger share of the infrastructure budget with the government making the development of Mindanao a key priority.