Holcim Philippines enhances masonry cement Holcim Wallright Prime for greater strength, versatile use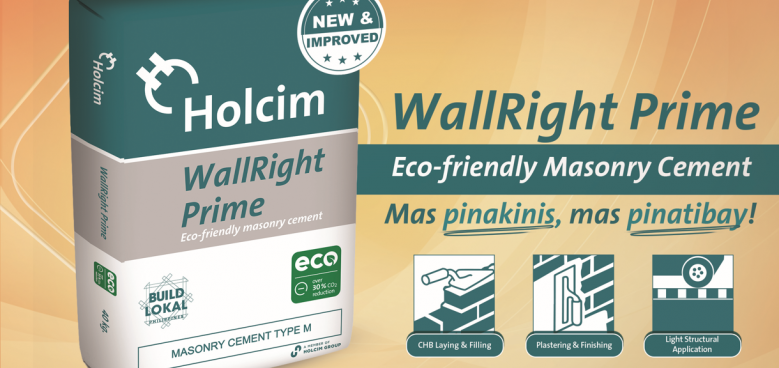 Leading building solutions provider Holcim Philippines, Inc. continues its product innovation drive with its masonry cement Holcim WallRight Prime reformulated with higher compressive strength for light structural applications.
Holcim WallRight Prime is enhanced to provide higher compressive strength to concrete while continuing to deliver superior performance for masonry applications such as better wall adhesion and workability, high water retention to prevent cracks, and smoother finish. Moreover, Holcim WallRight Prime will carry an Ecolabel mark to highlight it as a sustainable product with 30% lower carbon footprint than ordinary Portland cement. The new product will be initially available in Northern Luzon.
Holcim Philippines Senior Vice President and Head of Marketing and Innovation Ram Maganti: "Holcim WallRight Prime's enhanced strength makes it a more versatile and superior masonry cement in response to our builders demand for products with wider application. This provides our customers greater value as they may now use this product as a good alternative to general purpose cement for light structures."
Holcim WallRight Prime is the fifth new product that the company has released since December 2020 as part of its direction to innovate building solutions for specific applications. The new products also use fewer natural resources in line with the Company's sustainability commitment to help the country build more with less. Holcim Philippines diversification of its product portfolio is also a key driver of differentiation and business performance.
The Company's building solutions portfolio now includes multipurpose and ready-to use mortar Holcim Multifix, water-repellent cement Holcim Aqua X for increased concrete durability against moisture, Holcim AAC Block Adhesive for installing specialized wall blocks, and green general purpose cement Holcim ECOPlanet.