Holcim products listed on procurement website for green builders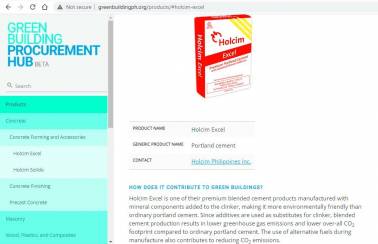 As the global leader in building solutions LafargeHolcim Group recently unveiled bold plans to further improve environmental performance, local unit Holcim Philippines, Inc.'s cement offerings were listed on an online platform that guides contractors looking for materials and services for green building projects.
Holcim Solido, Holcim Excel, and Holcim Wallright, which are designed for infrastructure, general purpose and masonry, are now listed on the Green Building Procurement Hub (Green Building/PH), a website that identifies products, services, and building spaces with green credentials. Green Building/PH is a service provided for the members of the Philippine Green Building Council (PHILGBC), an organization that accredits buildings for following or exceeding environmental standards.
The company explains on Green Building/PH that Holcim Solido, Holcim Excel and Holcim Wallright are environment friendly because these are produced with lower greenhouse gas emissions and overall carbon footprint compared with Ordinary Portland Cement.  
The company added that the products use mineral additives that reduce their content of clinker, the carbon-intensive component of cement and produced with low carbon-alternative fuels. The company is also working to have its range of dry mix mortar products listed on Green Building/PH.
Holcim Philippines President and CEO John Stull: "This is part of our commitment to contribute to sustainable development in the country by supplying products that have lower environmental footprint while meeting the performance requirements of builders. As construction activity in the country continues, our partners can count on us to provide them with building solutions that are respectful of nature and ensure quality structures."
This development comes as the LafargeHolcim Group unveiled during the New York Climate Conference on Sept. 21, 2020 new commitments to accelerate the 20% reduction in carbon intensity of cement production by 2030 to contribute to the global effort of holding temperature changes to 1.5 degrees Celsius. To achieve this, LafargeHolcim will increase low-carbon and carbon neutral offerings, use more recycled materials as alternative fuels and raw materials among others.
LafargeHolcim CEO Jan Jenisch: "I believe in building a world that works for people and the planet. That's why we are reinventing how the world builds today to make it greener with low-carbon and circular solutions. I am very excited to be working with Science Based Targets Initiative, taking a rigorous science-based approach to shape our net zero roadmap and accelerating our efforts to substantially lower our CO2 footprint. I will not stop pushing the boundaries to lead the way in green construction."
Holcim Philippines is committed to reduce its net carbon emissions per ton of cementitious material in line with the LafargeHolcim Group's targets to reduce its carbon footprint. Holcim Philippines has been making progress in this goal by producing more blended cements, increasing usage of alternative fuels and continuing improvement of operations for more efficient energy use.
Holcim Philippines actively supports the reduction of carbon emissions of the cement industry as committed through its Nationally Determined Contribution (NDC) to the Philippine government, a signatory of the Paris Agreement. The NDC includes mitigation options for the Philippine cement industry such as transition to low-carbon products.