Holcim recognizes top biz partners, shares new offerings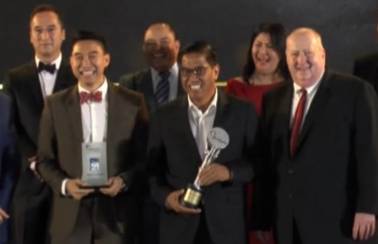 Building solutions provider Holcim Philippines, Inc. hosted its top business partners from June 1 to 2 in Mactan, Cebu to recognize the valued strong partnership, and share upcoming commercial offerings for them to better support and benefit from the country's robust construction activity.
Holcim Philippines gathered customers from all over the country to cite their contributions to the company's sales performance and overall success. Recognitions were given to the top business partners that sold at least 30,000 cement bags in 2017. Special awards were given as well to business partners that grew their sales volume of Holcim Philippines's specialty lines such as masonry cement, Wallright, and dry mix products. Called the Big Night, the annual recognition activity featured local celebrities for the entertainment of the company's guests.
Holcim Philippines President and CEO John Stull thanked its business partners for the company's continued success and noted their important role in contributing to the country's progress. He added that the company is committed to further strengthening their relationship and providing new products and offerings that support the growth of their businesses.
To this end, Holcim Philippines unveiled its ProSolutions offerings, a complete range of product and services providing building solutions for application in homes, buildings, roads and infrastructure.
ProSolutions supports the company's thrust to introduce more innovative building solutions that provide advantage to its business partners in serving their customers and helping the local construction industry deliver higher quality projects. Among the benefits of the offerings are faster sales for hardware retailers, improved output for masons and higher quality of work and faster construction for contractors.
"It's heartwarming to see Holcim Philippines introduce innovations that push for better building in the country and a better construction industry. We are happy to be associated with Holcim and move forward together in Build. Build. Build better with certainty," said Jett Manuel, Vice President for Construction of Megacem Inc., one of Holcim Philippines's top customers.