Holcim shares sustainability practices in 2nd National Consumers Congress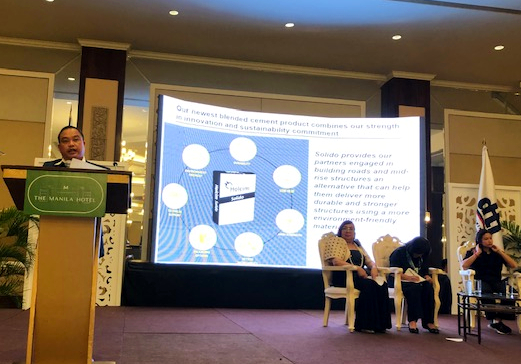 Holcim shares sustainability practices in 2nd National Consumers Congress
Leading cement maker Holcim Philippines, Inc. said it is important for the building industry to innovate to reduce consumption of natural resources and develop new materials that improve quality of construction to sustainably support the country's growth.
In his speech during the 2nd National Consumers Congress organized by the Department of Trade and Industry (DTI) last October 25 with the theme "Sustainable Consumption: Understanding the Impact of Consumer's Choices in a Shared Environment," Holcim Philippines Senior Vice President for Sales William Sumalinog noted that producers and consumers must be more serious about sustainability as the steady growth of population puts greater demands on the country's resources.
Citing a World Bank study, Sumalinog said that the country's urban population alone is projected to double to 102 million by 2050. This will require more essential infrastructures to be built which in turn needs to be supplied with large volumes of building materials. 
"At Holcim Philippines, we are deeply aware of this issue. For the past years, we have implemented various initiatives and introduced innovations that allow us to reduce our consumption of natural resources and impact on the environment," shared Sumalinog.
He noted that Holcim Philippines introduced last year its latest product called Solido, a blended cement designed as a better alternative to Ordinary Portland Cement (OPC) for building light infrastructures such as roads and mid-rise buildings. Due to mineral additives, Holcim is able to produce Solid with a lower clinker level and carbon footprint while enhancing the concrete's durability, strength, and workability. To date, Solido's sales are steadily growing as customers recognize its benefits.
In September, DTI-Bureau of Philippines Standards (DTI-BPS) approved the Amendment 01:2019 of the Philippine National Standard (PNS) 07:2018 Portland Cement which enables the cement industry to use more mineral additives in making cement.
Sumalinog shared that aside from using more mineral additives to reduce consumption of natural resources, Holcim Philippines is also increasing its use of qualified waste materials as alternative fuels and raw materials to contribute to waste management in the country.
Started in 2004, Holcim waste management unit Geocycle has used hundreds of thousand tons of wastes from private and public partners as alternative fuels in cement production allowing the company to replace coal with low-carbon alternatives while diverting discarded materials away from landfills.
Sumalinog said that Holcim Philippines' flagship corporate social responsibility program Galing Mason contributes to raising the skills of masons which includes educating them about using the right products for the right applications since blended cement alternatives are the better option for certain building projects. He added that the company also holds the Young Builders Challenge, a design contest for architecture and engineering students focused on sustainability to contribute to raising awareness about the importance of sustainability among the youth.
"As a building materials supplier, we are a natural partner for the progress of this nation. We believe that our efforts to produce building materials must be respectful to the environment, our people, and communities so, we can have a more positive impact on development. We can assure our stakeholders that they can depend on Holcim Philippines to continue being a partner for progress in a sustainable manner," added Sumalinog.