Holcim supports Bacnotan's sustainable tourism growth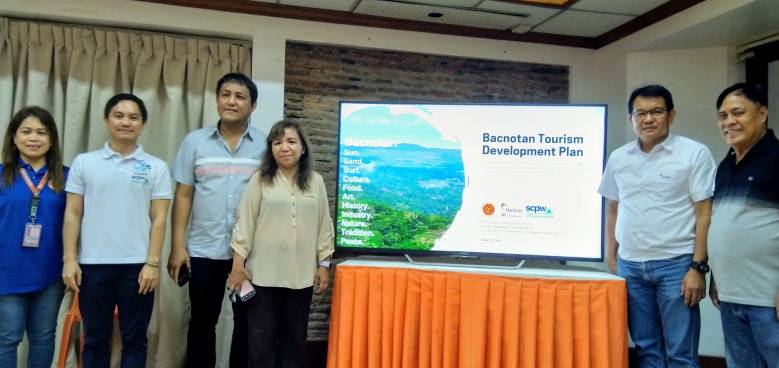 From left, Municipal Planning and Development Officer Francia Gonzales, Consultant architect Aaron Lecciones, Bacnotan Mayor Fransisco Angelito L. Fontanilla, Vice Mayor Divina L. Fontanilla, Bacnotan Plant Manager Erano Santos and Sangguniang Bayan Member Frank Almodovar
Leading cement manufacturer Holcim Philippines, Inc. is supporting the multisectoral effort to develop a sustainable tourism masterplan for Bacnotan, La Union that ensures development over the coming decades benefits the community and respects the environment.
Holcim Bacnotan Plant Manager Erano Santos turned over last July 4 the Tourism Development Master Plan to Mayor Francis Fontanilla at the People's Hall. The plan aims to maximize the economic potential of Bacnotan's tourism industry and ensure its positive impact on the environment, natural resources, cultural heritage and communities.  It was presented to barangay officials, tourism and solid waste coordinators from the 47 barangays and guests from the business sector, and non-government organizations.
"We are grateful to our partner, Holcim Philippines La Union Plant, for its dedication to support our beloved hometown by crafting the Bacnotan Tourism Development Plan. We are confident that this noble work shall be a helpful tool in enhancing potential agri-tourism sites – the economic gemstones of Bacnotan. We are excited for the fruits of its implementation as it is aligned with the provincial government's goal of making La Union the heart of agri-tourism in Northern Luzon," Mayor Fontanilla said.
"We at Holcim are honored to have been given this chance to participate in the growth of Bacnotan.  As a neighbor and corporate citizen, we hope that this plan will help the people of Bacnotan maximize the economic benefit of an agri-tourism destination as part of our inclusive growth focus, so no one gets left behind," Santos said.
Developed in consultation with Bacnotan's 47 barangays and local officials, the plan considers the Department of Tourism guidelines for local government units, the Comprehensive Land Use Plan for Bacnotan and the United Nations Sustainable Development Goals.  It provides recommendations for strategic tourism development alongside infrastructure and environment management, ordinances and design guidelines, investment opportunities, capacity development and monitoring.
The plan was crafted together with the Society for the Conservation of Philippine Wetlands (SCPW), an NGO with 20 years experience in promoting and raising awareness on the wise use and benefits of healthy urban wetlands in the country. One member of the SCPW project team, Architect Aaron Lecciones, is a winner of the Asia Pacific leg of the inaugural 2005 LafargeHolcim Awards for Sustainable Construction.