Holcim waste management unit gets ISO certifications anew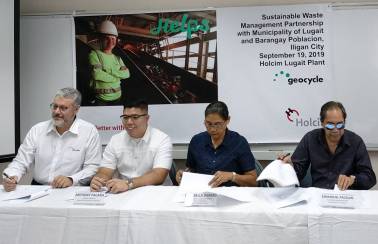 Leading building materials provider Holcim Philippines, Inc.'s waste management unit Geocycle was recently recertifed for following high standards in quality, environment, and safety management systems in its operations.
The Geocycle team received certificates for ISO 9001 (Quality Management System), ISO 14001 (Environment Management System) and OHSAS 18001 (Safety) from third-party certification body Certification International Philippines on July 27. The audits for the certification were conducted prior to the quarantines, while the documents showing the corrections and corrective actions were shared virtually.The ISO certificates are valid for three years with annual surveillance audits in between. Geocycle has been ISO certified since December 2010.
Vice President for Geocycle Frederic Vallat said the recertification is important as the unit further grows and offers its services to more partners in the public and private sectors. Geocycle uses cement kiln co-processing technology, wherein properly qualified wastes, after pre-processing, are used as alternative fuel and raw material in cement production.
"Our co-processing operations are a key driver of our business and environmental performance as well as part of our commitment to make a positive difference in other areas of the country's development. These ISO certifications are strong proof that our operations follow the highest standards for safety and environmental responsibility and demonstrate to our growing number of partners our reliability in managing their waste management requirements," he said.
In 2019, Holcim Philippines used more than 170,000 tons of waste materials from industries and communities including tens of thousand tons of non-recyclable plastics as alternative fuels and raw materials with its co-processing technology. This allowed the company to avoid coal in cement production for 38 days leading to lower carbon emissions and fuel costs while helping its partners manage their wastes in an eco-friendly manner.