ALPHALAND CORPORATION: Master planning for sustainable ecotourism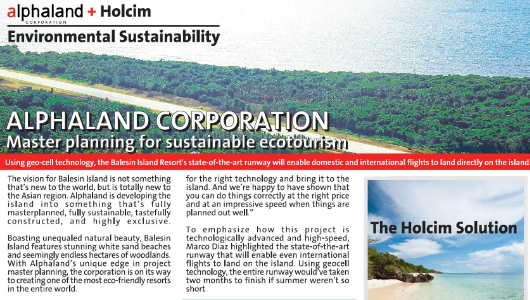 The vision forBalesinIslandis not something that's new to the world, but is totally new to the Asian region. Alphaland is developing the island into something that's fully sustainable, tastefully constructed, and highly exclusive. Alphaland is not just putting up a resort on a plot of beachfront like in a million other places. It's changing the entire culture of the area to be sustainable.
According to Project Director of the Balesin Island Resort, Marco Diaz, everything in the resort is being built using the latest proven technologies in the most environmental way. The BalesinIslandhas six villages created using themes inspired by the best destinations in the world. Mykonos (Greece), St. Tropez (Cote d'azur), Costa Smeralda (Sardinia), Bali (Indonesia), Phuket (Thailand) and Balesin (Philippines).
"Certain areas of the island are heavily forested and we're not touching these trees. We're actually building around them and we think it'll be a good adventure for everyone. By having one master plan, we know how much resources the island will need per year. In doing so, everything is maintained and sustainable," Diaz explained.
"We're really using the best technology out there. We're going out into the world to look for the right technology and bring it to the island. And we're happy to have shown that you can do things correctly at the right price and at an impressive speed when things are planned out well."
To emphasize how this project is technologically advanced and expeditious, Marco Diaz highlighted the state-of-the-art runway that will enable even international flights to land on the island. Using geocell technology, the entire runway would've taken two months to finish if summer weren't so short.
Led by Fernando Santico, COO of Alphaland, the team found the geo-cell technology to meet Alphaland chairman, Roberto V. Ongpin's mandate to keep the island sustainable. They used geo-fiber to serve as a base and the geo-cells were filled with local in-situ materials. Then they laid Holcim cement as part of the concrete on top. "In this way, the entire runway has a solid base in which to set itself on. Not only did it save us a lot of money but it also saved tons of carbon footprint in processing and transport," said project director Marco Diaz.
"Within a period of a month, we finished almost a kilometer of the 30 meter wide runway. So you can say that this is one of the fastest airports ever built.  The geocell technology made sure the compaction of the ground was sufficient to lay out our concrete. To be able to build a proper runway, the compaction of the ground has to withstand up to 5000 PSI because you have planes constantly landing into it. But instead of having to grind down half a mountain and transport it all as base course, we had to look for another way. Something that had a small carbon footprint and would make use of the local material we had in our environment," said Marco.
Driven by their passion to deliver excellent projects, Alphaland Corporation hopes to open the resort by the end of the year.
The Holcim Solution
In building the resort, one of the materials they needed in bulk is cement to build their international standard airport on the site of the old grass airfield on the island. "Most people are used to using the normal 40 kilo bags. But if you're going to use hundreds of thousands of these bags, you'll have a massive trash problem. You can't just burn these bags. So we wanted something reusable and because it's going into an island, it would be more efficient to send it in bulk. Also, we feel we can use the Holcim tonner bags three to five times."
Marco stated that Holcim was well placed as they were just opening their Calaca terminal in Batangas. This allowed for easier logistics since they had to transport tons of cement. Also, Holcim has tonner bags readily available at their Calaca terminal. This provided the ideal solution for Alphaland's goal for effective waste management.
Taking sustainable development to a whole new level, Alphaland has gathered the best master planners, architects, engineers and suppliers to create the impressive Balesin Island Resort.  Besting other cement suppliers, Holcim is helping this project come to reality.
To know more about Holcim tonner bags and how it can help your business, contact Holcim today:
Trunkline (02) 4593333; Customer CARE center (02) 4593222; PLDT Toll free 1800-100-HOLCIM (465246); Digitel Toll free 1800-38-HOLCIM (465246)