Holcim aids government anew for quick road repairs during Holy Week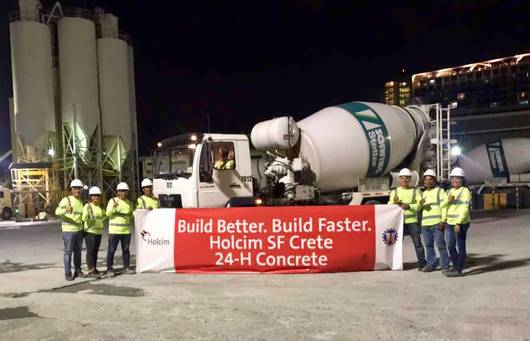 Construction solutions provider Holcim Philippines, Inc. again proved its reliability in helping the government execute quick repairs of busy national roads, with its building solution SuperFast-Crete (SF-Crete) allowing a southbound stretch of the C5 truck lane closed for maintenance on Holy Thursday to be passable 24 hours after the concrete pouring was done.
Motorists were already using the said section of the road by the morning of April 15, a day after the pouring of SF-Crete was finished. Roads made with SF-Crete are strong enough to be passable in 24 hours compared with those built with regular concrete, which takes three days to achieve the required strength. Accredited last year by the Department and Public Highways (DPWH) last year as a road repair solution, SF-Crete can help the government reopen reblocked roads faster and prevent adding to traffic that inconvenience motorists especially in highly-urban areas.
Tests by the DPWH showed that the SF-Crete-made sections of C5 quickly reached the required strength to be passable in only 12 hours, further highlighting its superior performance.
William de Lumley, Head of Aggregates and Construction Materials at Holcim Philippines, said the company looks forward to supporting the government in completing the rehabilitation of C5.
"We will bid on all the repairs. We are working closely with the contractor to highlight the advantages of our solution such as better overall concrete quality, easier solution to place and technical experts on site. We are confident our consistency in delivering solutions will make us the partner of choice for road repairs," he said
Aside from the quick repairs, the DPWH's decision to rebuild the truck lane entirely of concrete makes it better able to handle heavy vehicles. Previously maintained with asphalt, the road has become uneven with tread marks of trucks, making it unsafe for motorists.
Pavement breaking for the 180-meter stretch and debris clearing started early on April 13, Holy Thursday. It was part of several stretches of EDSA and C5 the government closed that day for repairs to take advantage of the drop in traffic volume during the Holy Week.
The speedy C5 repair repeats Holcim Philippines' achievement last year in helping the government conduct a quick reblocking of EDSA. Due to the heavy traffic in Metro Manila, much needed repairs of major thoroughfares, which are already decades old, are done only during long holidays, to prevent motorist inconvenience since there are fewer vehicles on the roads.