Holcim Concrete Solutions in Action: 70-storey Stratford Residences, the Philippines' tallest building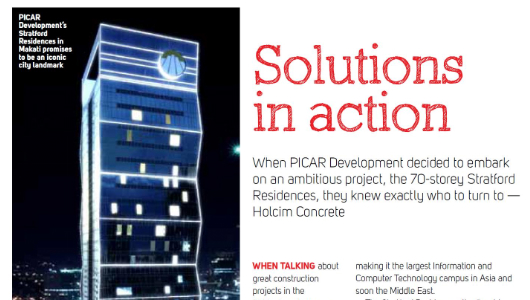 Which qualities define the greatness of an endeavor? When talking about "great construction projects" in the Philippines, for those in the know, two names easily come to mind, Stratford Residences and Holcim.
The Stratford Residences project is a game changer. This ambitious development by real estate newcomer PICAR Development is both introduction and induction to the roster of major developers in the Philippines. As it changes the Makati skyline with its record-breaking 70-stories, it redefines luxury living by giving new meaning to the phrase "life at the top." The man behind Picar Development is the visionary behind the AMA educational system, the country's pioneer in computer education.

"I opened my AMA school in 1980, the total student body numbered 13 students. I told them one day we are going to be the biggest IT school in the country." Amable Aguiluz V, fondly recalls the humble beginnings of his greatest success. He delivered on his word, growing the AMA school system from those 13 students to 150,000 annually, making it the largest Information and Computer Technology campus in Asia and soon the Middle East.
The Stratford Residences, the flagship project of the AMA Group of Companies subsidiary, PICAR Development, Inc. will be Makati's iconic landmark. Chairman Aguiluz has great plans for PICAR Development Inc. "These days, customerrs want to acquire properties they see rising from the ground, not projects seen only in brochures. We will adapt to the changing market and remain service focused on providing customer value." Aguiluz stated.

Great feats can only be accomplished by a great team. The Stratford Residences is being built by PICAR Development Inc., working with a very capable contractor KONGEN and using only the best cement and concrete products from Holcim Philippines, Inc.
Through Holcim's value engineering, PICAR Development is able to decrease its use of steel in favor of high strength concrete. Holcim concrete experts came up with a specially designed concrete mix using
Holcim 4x cement. This high-strength, highworkability cement is ideal for fast construction cycles and optimized concrete mix designs necessary for a 12,000 psi structure like The Stratford Residences.

According to KONGEN Chief Operating Officer Architect Manny Laguardia, 'At 12,000psi, this is value engineering to the extreme and Holcim helped us achieve this great feat.' With Holcim on board, building the massive Stratford Residences is firmly on schedule and is slated to be unveiled in 2015. Laguardia adds, 'Every contractor I have spoken to recommends Holcim. Holcim is very professional and I trust them to always provide quality concrete on schedule every time.'
The Stratford Residences not only has residential units that offer breathtaking views of the metropolis, it takes one's breath away just looking at it. With a distinctive accordion-inspired curvilinear exterior by Architect Jose Pedro C. Recio its been recognized as one of the Top Ten Designs of 2009 by Asian construction information service, BCI Asia. The clincher is its great location just along Kalayaan Avenue in Makati, it provides unparalleled convenience with its proximity to the Makati CBD, shopping malls and educational institutions. Marketing Director Mr. Eric Villegas added, 'The Stratford Residences are not only for upwardly mobile professionals, young families and empty-nesters who enjoy the modern and  contemporary lifestyle. Units here are also ideal additions to a growing real estate portfolio.'
To know more about Holcim and how they can help your business, contact Holcim today:
Trunkline: 02-4593333
Customer CARE Center: 02-4593222
PLDT Toll free: 1800-100-HOLCIM (465246)
Digitel Toll free: 1800-38-HOLCIM (465246)