Holcim gets Anvils for employee communications, centennial campaign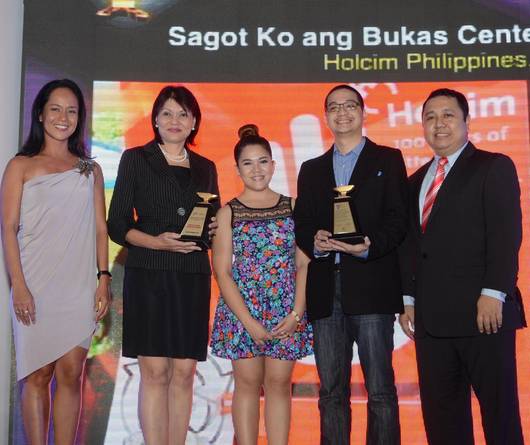 Cement manufacturer Holcim Philippines, Inc. was again recognized by the Public Relations Society of the Philippines (PRSP) for its communication programs, with the company getting Anvil Awards for Employee Communications and its centennial celebration campaign. 
Holcim won Merit Awards for both programs during the recent 48th Anvil Awards held at the Makati Shangri-la Hotel. Both programs were among the 396 entries that underwent a two-stage screening process for the Anvil Awards.
"We are immensely proud that the Anvil jurors have once again recognized how our multi-faceted approach has paved the way for open and honest communication, where employees are motivated to listen and understand, and empowered to speak up and be heard. We cherish this award as it validates that we are steering our employee communications program in the right direction," said Corporate Communication Vice President Beng Prado.
HPHI's centennial program Sagot Ko Ang Bukas campaign was cited for its effort to reach out to a broader sector of society so everyone could take personal action to live sustainably. 
"Instead of a one-off party, we chose to use our centennial celebration to reiterate our advocacy of sustainability. Our community service day, our Foster a Child's Education launch and our pledge campaign were all venues to reach out to a broader sector and get them to contribute to a sustainable future," Prado said.
Now on its 48th year, the Anvil has become a symbol of excellence in public relations practice in thePhilippines. This annual project of the PRSP taps a distinguished multisectoral jury in recognizing outstanding PR programs and tools designed and implemented in the past year.
This year's Anvil Board of Jurors was chaired by Visnu Mohan, CEO of Havas Media – Asia Pacific. As in the past, the Board was comprised of a multi-sectoral mix of experts in the field of communication, business, government, academe, media and civil society.