Holcim grows key skill of masonry in nationwide communities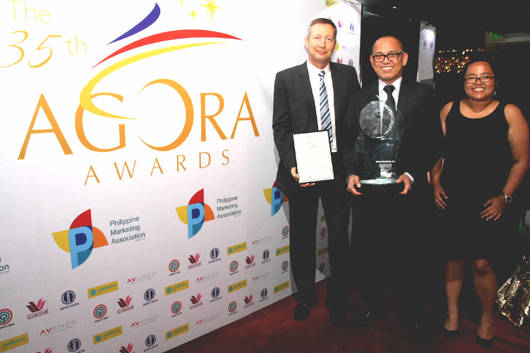 Masonry is a key skill in the construction industry. It is a trade that builds.
From roads, schools, homes to shopping centers and offices, the unsung masons enable structures to rise, structures integral to development. Their contribution to our nation's growth is undeniable.
Through the Galing Mason program, Holcim Philippines, Inc.'s flagship CSR initiative since 2004, a pool of masons has been grown through comprehensive formal training on masonry. This nationwide capability building program is now producing masons, masonry trainers, foremen and entrepreneurs. Graduates are now employed in public and private firms, including some of the largest construction companies in the country.
"The Galing Mason Program means empowerment. This improves their skills and increases their confidence. Our goal is to build on what they have to instill hope and ensure that this has a positive and sustainable impact on their lives," Holcim Philippines Senior Vice President for Manufacturing Andre Caluori says. 
Participating masons are from different provinces like the host communities of Holcim plants in La Union, Bulacan, Misamis Oriental and Davao; and other areas like Leyte, Samar and the Bicol Region. Women learn side by side with male counterparts in a trade traditionally dominated by men.
Safety, Holcim Philippines's major advocacy, is emphasized. The goal is to instill in masons the knowhow to do their work in a safe manner and build resilient and durable structures.
Last year, in recognition of the Galing Mason Program, the Philippine Marketing Association conferred the prestigious 2014 Agora Award for Advocacy Marketing on Holcim Philippines, a first among industrial manufacturing companies.
"It is an honor to be recognized for this program. We dedicate this Agora award to the over 5,000 masons of Galing Mason. We hope this effort will continue to help professionalize the masonry trade, instill pride in the value of quality workmanship and work ethics, and boost the employability of masons," Caluori says
Galing Mason is an impetus to start anew --  build hope and rebuild lives. In Samar and Leyte, the program has just concluded its first run with close coordination with local partners to realize the Holcim Philippines vision to rebuild a part of Leyte, with 100 new homes built by the hands of the people who will undergo the training.
Rising from the ruins of New Bataan, Compostela Valley is the Tabang Ta Kabalayan Homes, where residents have taken up masonry as a new skill and helped build typhoon resilient homes in the area. They are now employed in the numerous rebuilding projects in the area.
To encourage exceptional masons, Holcim Philippines conducts the biennial Galing Mason Awards, a national search for the Most Outstanding Mason of the Philippines. Galing Mason 2013 awardee Sonny Rebleza of Kidapawan City shares, "Nagkaroon ako ng pagkakataon na umangat sa buhay para sa aking pamilya. "Maraming naitulong sa akin ang programa."
HO partners with the Technical Education and Skills Development Authority for trained masons to receive certification. The company also works with the Philippine Constructors Association, the National Housing Authority and the Association of Construction and Informal Workers.