Holcim highlights build solution in Jakarta road repairs in DPWH innovation forum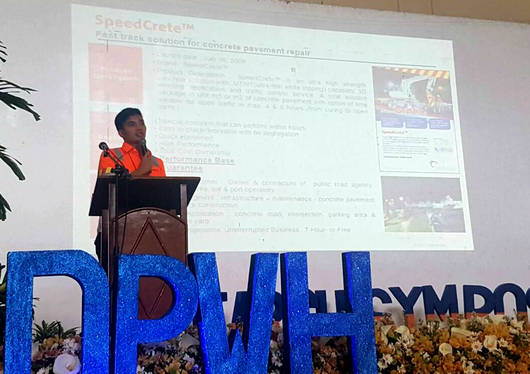 Building solutions provider Holcim Philippines, Inc. shared new construction technologies helpful to the country's infrastructure drive in the November 16 government forum on building innovation.
Presenting was its Indonesian affiliate, Holcim Indonesia, on its role in the fast repair of Jakarta's roads.
Construction Manager for Holcim Indonesia, Rizko Pradana Andika, spoke at the 2017 Rapid Construction Methods Symposium of the Department of Public Works and Highways, on the company's partnership with the Jakarta government to quickly rehabilitate the city's bus lanes to counter traffic congestion. With Holcim Indonesia's SpeedCrete system, the roads were quickly passable in only seven hours, compared to two weeks with the conventional method.
Holcim Philippines has also successfully deployed in the country a 24-hour concrete called SuperFastcrete for quick road repairs of major thoroughfares. In Indonesia's case, Holcim supplies the building material and does the construction.
Bureau of Research and Standards Director Reynaldo Tagudando said the symposium, held at the Bahay ng Alumni in UP Diliman, allows stakeholders to discuss new technologies to fast track construction projects in the country.
"It is in line with the DPWH and the government's thrust to support infrastructure so we can better compete internationally and support economic activity in the country," he said.
With the government interested in innovative technology to support its infrastructure program, Holcim Philippines has increasingly introduced more value-adding innovative approaches and technologies for better building in the Philippines.
In October, the company and international partners held meetings with key stakeholders in the road infrastructure sector to express its readiness to be involved in the design phase where their knowledge and building solutions can be better used for improved project execution.
Backed by leading global construction materials provider LafargeHolcim, Holcim Philippines is confident that it can provide more than cement to support the country's infrastructure drive particularly for road projects for which the DPWH is set to receive Php640 billion in 2018.