Holcim PH gets DPWH nod for one-day concrete for roads, more global &amp innovative building solutions upcoming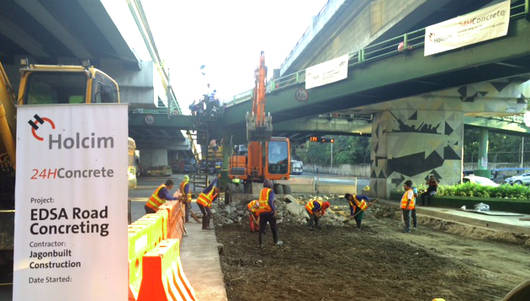 Construction solutions company Holcim Philippines, Inc. has secured government accreditation for its one-day concrete technology ideal for quick road repairs in highly-urban areas, continuing the company's diversification of its offerings beyond cement to better help local builders amid the construction boom.
Under Department Order 235, the Department of Public Works and Highways (DPWH) approved the use of Holcim Philippines' road solutions technology SF-Crete or SuperFast -Crete for road projects.  
Designed to rapidly gain strength and harden, SF-Crete was successfully used during the Holy Week break in March 2016 to repair sections of EDSA and make these passable after one day instead of the usual three to seven days. These properties make SF-Crete ideal for cutting the repair time of roads in highly-urban areas to benefit traffic-burdened motorists and commuters.
Holcim Philippines COO Sapna Sood thanked the DPWH for trusting the company to bring in construction solutions that can help the Philippine building sector put up better structures.
She added that the company plans to introduce more innovative products like SF-Crete, which is part of an integrated road building technology that can help builders lower project costs and increase durability of structures.
"As a member of the LafargeHolcim Group, Holcim Philippines has access to a wide range of proven construction solutions that have helped builders all over the world. We believe that the Philippines will benefit from these innovative offerings especially at a time when the government and private sector are building the needed structures to sustain the country's growth," she said.
The government reportedly plans to spend 5.4% of GDP for infrastructure this year and steadily increase this up to 7.4% until 2022, with total expenditures reaching Php 8 trillion. Private construction is also expected to sustain its growth due to the steady expansion of the outsourcing, tourism, retail and real estate industries.
Sood said Holcim Philippines will continue to ensure the reliability of cement supply to support these developments and work with local builders with more specific requirements for their projects.
"The sustained growth of the country has also changed the construction industry. There is a growing segment of the building sector with more sophisticated needs. These provide us with a tremendous opportunity to show that aside from being a reliable supplier of cement, we are the best partner to support them with our building solutions," she added.