Holcim PH ready with road building solutions to help infra push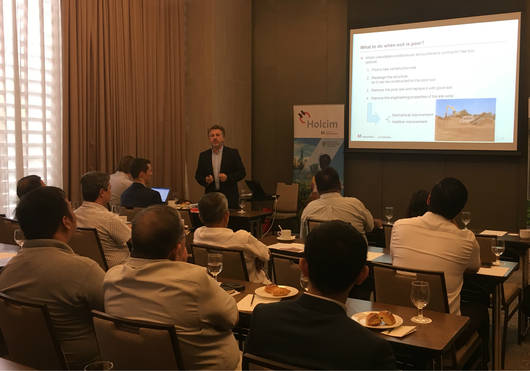 Building solutions provider Holcim Philippines, Inc. held a series of meetings in October with key stakeholders in the public and private sector to share innovative approaches and technologies that can help cut costs, speed up construction and improve durability of structures in the nationwide upgrade of infrastructure.
Along with partners from global building solutions leader LafargeHolcim Group and Chilean pavement innovator TCPavement, Holcim Philippines representatives met with officials of leading private groups and government agencies involved in road infrastructure to present innovative solutions that can help in their projects.
The company looks to support the government's drive to improve road building in the country, for which the Department of Public Works and Highways (DPWH) is set to receive Php640 billion in 2018.
"The scale and breadth of the infrastructure projects being considered by the government requires more innovative approaches. Backed by leading global construction solutions provider LafargeHolcim Group, Our company is ready to assist the government and local builders beyond providing cement. There is a wealth of innovative solutions at our disposal that can be very useful in building better infrastructures in the Philippines," said Holcim Philippines President and CEO Sapna Sood.
Instead of just supplying construction materials, Holcim Philippines looks to provide more value-adding solutions that improve the execution of projects. The company plans to collaborate with decision makers earlier for a deeper insight of project needs that can be addressed by its technical expertise and portfolio of solutions.
LafargeHolcim Road Projects Manager Eugen Florescu shared the variety of solutions the Group has developed for road building worldwide, while TCPavements General Manager Juan Pablo Covarrubias discussed the possibility building more durable roads with thinner pavements.
Sood said Holcim Philippines is also working with local stakeholders to update current building standards to accommodate such innovations. She noted that the local regulators are very open to these new technologies pointing to the approval of its 24-hour concrete for quick repairs, which has been used by DPWH in the rehabilitation of major roads in Metro Manila.