Holcim PH supports national road safety with 1st heavy equipment driver academy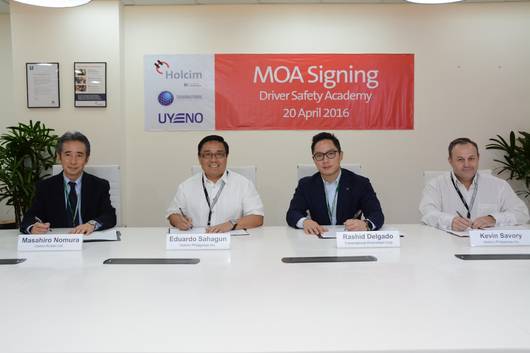 To contribute to national road safety and help raise skills of professional Filipino drivers, construction solutions company Holcim Philippines, Inc. signed on April 20 a memorandum of agreement to be the anchor client of the country's first ever school for heavy equipment drivers.  
Holcim Philipines will be the anchor client for three years of the Safety Academy of TDC-Uyeno, a joint venture between logistics firms Transnational Diversified Group and Japan's Uyeno Yuso Ltd. The latter also operates a driver academy in Japan and provides hauling services for oil companies there.
Holcim Philippines President and Country CEO Eduardo Sahagun said the initiative is an important part of the company's efforts to contribute to a safer road environment in the country.
"It takes thousands of trucks to transport our products nationwide and the number is growing with cement demand on the rise. This is our way of making sure those who drive these vehicles are equipped with the right skills and have the correct safety mindset," he added.
Under the agreement, Holcim Philippines and its transport partners will annually send at least 180 truck drivers and 60 supervisors for basic and advanced safety trainings and supervisory and management skills development in the Safety Academy. 
The goal is to produce well-trained and disciplined drivers through a professionally organized training course to reduce safety incidents in the transport of Holcim Philippines products and to contribute to overall road safety in the country.
The course is certified by the Technical Education and Skills Development Authority and compliant with international standards for occupational health and safety.
The Global Road Safety Partnership said the increasing motorization and urbanization in the Philippines has seen the rise of traffic and road safety issues. The World Health Organization was reported to have estimated that there were over 10,000 fatalities related to road safety incidents in 2015 while the Department of Public Works and Highway-Traffic Accident Recording placed this at 1,513.