Holcim Philippines' 24-hour concrete to benefit traffic-burdened commuters &amp motorists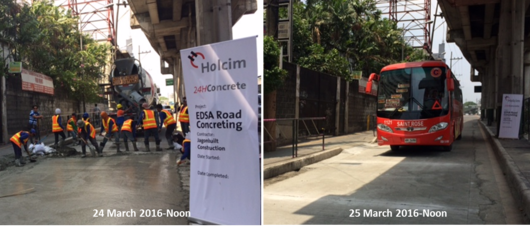 Commuters and motorists who ply traffic-challenged EDSA can greatly benefit from the 24-Hour Concrete that construction solutions company Holcim Philippines, Inc. introduced in the EDSA re-blocking to help the Department of Public Works and Highways (DPWH) speed up repairs during the Holy Week break.
Holcim Philippines outperformed its target, with its concrete used in sections of EDSA in the Ortigas area ready even earlier than 24 hours. It is one of many construction solutions that the company can tap into as a member of global construction leader LafargeHolcim.
The use of the Holcim 24-Hour Concrete can speed up road repair and cut time and need to close down peripheral roads, bridges and interchanges due to road repair and construction. The ability to fast-track and complete projects with the least inconvenience to commuters will ease the traffic situation since over half a million vehicles use EDSA in a day versus its carrying capacity of some 160,000 vehicles per direction. 
Holcim concrete was poured in the EDSA section in front of the Securities and Exchange Commission, on the Ortigas flyover and under the flyover in front of the EDSA Shrine. Holcim engineers and DPWH engineers were on hand to oversee each step. After the concrete pouring and curing, inspection and testing, all road sections using the Holcim 24-hour Concrete were opened to motorists in less than a day.
The special blend of Holcim concrete passed flexure strength tests with its being easier to spread and smoothen, and that once poured, gained rapid strength and hardened faster.
It is the first time Holcim's 24-Hour Concrete was used on EDSA, a vital and major transportation artery in Metro Manila that is struggling with the sheer volume of vehicles.  Holcim concrete's setting time innovatively cuts current and prevalent concrete hardening time from three days to less than one day.
Holcim Philippines Country CEO and President Eduardo A. Sahagun said this technology is helpful in projects with tight deadlines like the repair and improvement of EDSA and other infrastructure projects since the concrete is ready three times faster.
"It is a major solution for faster road repairs and builds, boosting productivity with faster travel time, easing traffic congestion to lessen pollution in the country, and providing safer roads to travel. As a responsible corporate citizen, Holcim Philippines continues to bring in environmentally friendly global technology to fast-track having much needed infrastructure," he said, stressing, "It puts into action our mantra, panatag ka 'pag Holcim."
"With urbanization and the growing population of over 12 million in Metro Manila alone, the construction industry in the Philippines has steadily been evolving and builder needs have become more sophisticated. We at Holcim Philippines, a member of LafargeHolcim, invest in innovation with global construction solutions for our consumer needs," Sahagun stressed.
Holcim Philippines Aggregates and Concrete Materials Head William de Lumley expressed thanks for the trust to be of service to the riding public by providing the Holcim 24-hour concrete used in re-blocking EDSA speedily during Holy Week.
"For the convenience of the riding public, this type of concrete is effectively used in highly dense areas where immediate road use is important. It is part of our innovative range of construction solutions," he said. 
"We are deploying technology and construction solutions that are easy to use and have been well tested in Indonesia, Canada and in other countries developed by the most advanced research and development facilities worldwide of the LafargeHolcim Group. We are ready to provide innovative solutions like this to help partners like the DPWH build more efficiently and safely given the high strength gain and quicker hardening of Holcim's type of concrete," de Lumley said. 
DPWH conducts maintenance of EDSA during Holy Week when fewer vehicles use the thoroughfare. The repairs must, however, be done quickly as traffic still picks up at the beginning and end of the long holiday. Re-blocking of roads is needed to maintain road quality. The World Economic Forum ranked the Philippines 84th in road quality in its 2015-2016 Global Competitiveness Report.