Holcim Philippines' employees volunteer for Brigada Eskwela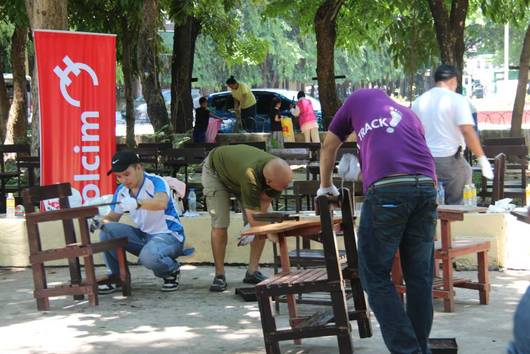 Employees of cement manufacturer Holcim Philippines spent several days to clean and repair classrooms and school equipment in its communities, in support of the government's drive to mobilize volunteers to prepare public schools for the opening of classes.
 Close to 400 Holcim Philippines' employees, contractors and scholars trooped to schools near the company's facilities to lend a hand in the government's annual outreach programs for public schools.
"Holcim Philippines is proud in our employees continued participation in the Brigada Eskwela in all our sites. Supporting education is one of our company's advocacies. We believe initiatives to improve the facilities, cleanliness and safety of schools make them more conducive places for students in our communities to learn," said Holcim Sustainable Development Manager Mike Cabalda.
In La Union, 50 employees participated in Brigada Eskwela initiatives in five schools there and one more in Pangasinan from May 20 to 27. Holcim Philippines provided tools and snacks for volunteers, while its employees helped clean and paint classrooms, repair electrical wiring and clear the schools' grounds. Aside from these, the plant donated an Audio Visual Building to the Agno Central School in Pangasinan.
The Dona Remedios Trinidad High School and the Padling Elementary School hosted 155 employees, contractors and scholars of Holcim Bulacan on May 21 and 29. The volunteers helped clean classrooms, repaint the school's façade and clear the grounds. The company also donated funds for the construction a hand washing facility, two deep well units and the repair of a school fence in four schools in the province.
Meanwhile in Davao, seven public primary and two secondary schools welcomed 134 employees and contractors of Holcim Philippines' plant there from May 21 to 24. The group helped repair fences and constructed pathways and pavements.
Finally, 25 of the company's Head Office employees participated in the Brigada Eskwela organized by the Philippine Businesses for Social Progress (PBSP) for the Taguig National High School on May 24. There, the company's 30 volunteers painted desks, cleaned classrooms and covered books for the incoming students along with 79 participants from member companies of PBSP.