Holcim Philippines marks Environment Month with eco programs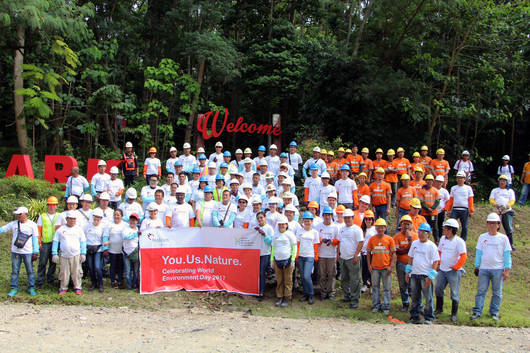 Volunteers from building solutions provider Holcim Philippines, Inc. and partner organizations planted close to two thousand seedlings nationwide as part of the company's celebration of the Environment Month in June.
In Luzon, the Batangas and Bulacan plant employees planted 400 seedlings in a forested area in the municipalities of Mabini and Norzagaray, respectively. Holcim Philippines' head office personnel, meanwhile, trooped to Pampanga to plant 500 seedlings of fruit-bearing trees in the Mount Arayat watershed.
Holcim Philippines volunteers planted 800 more seedlings of various fruit-bearing and hardwood trees in the rehabilitated quarry sites of affiliate Holcim Mining and Development Corp. in Davao and Misamis Oriental.
The company also conducted an internal roadshow of its plans for increased alternative fuels usage and reduced water consumption and emissions to improve its environmental performance as part of its commitment to contribute to the United Nation's Sustainable Development Goals.
In a related development, Holcim's Davao Plant extended its support to the Adopt-A-Philippine-Eagle Project for five more years, in line with the company's environmental advocacy.
Holcim's Davao Plant signed a memorandum of agreement with the Philippine Eagle Foundation where the company committed to provide Php 125,000 annually until 2022 to fund the care of Philippine Eagle Hiyas and contribute to the research and conservation activities of the foundation and maintenance of the Philippine Eagle Center. 
Adopted by Holcim Davao in 2014, Hiyas is one of 33 Philippines eagles cared for by the Center. She is set to be paired with a male Philippine eagle named Magilas.
The foundation leads the conservation and breeding efforts of the Philippine Eagle, the country's national bird. It is one of the largest of its kind in the world but also among the most critically endangered. The foundation operates the 8.4 hectare Philippine Eagle Center in Malagos, Davao City that houses and cares for this species and other rare animals.