Holcim Philippines shares solutions for affordable housing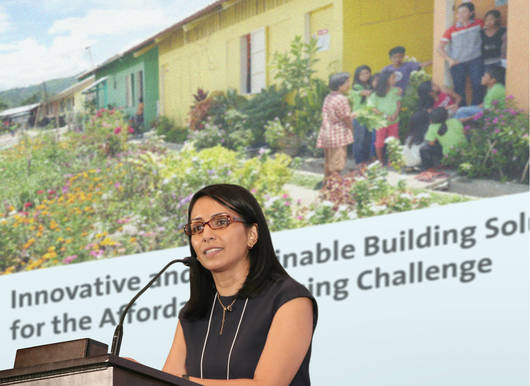 Holcim Philippines President and CEO Sapna Sood said this during 6th Asia Pacific Housing Forum organized by Habitat for Humanity Philippines on July 26, where she also discussed several of the successful services and materials that global building solutions provider LafargeHolcim has rolled out for affordable housing in other markets.
"We know there's a need for solutions and we want to be part of that. We're talking to local partners, communities and NGOs to make sure solutions are appropriate to what is required in the Philippines. We are looking at local requirements and if it's already in our portfolio of solutions, we can bring that here as well," she added.
Sood noted that Holcim Philippines will leverage on the rich experience of the LafargeHolcim Group's Affordable Housing team for the types of products and services that can benefit this segment.
Sood shared that LafargeHolcim has developed Durabric for the country of Malawi in Africa  as a more eco-friendly and affordable alternative to the traditional clay bricks used there. In partnership with a British NGO, a new plant for Durabric was recently opened to reach more customers.
The Holcim Philippines executive also talked about a credit card exclusively for purchasing building materials at the hardware stores of LafargeHolcim Ecuador that has helped thousands of customers in that market to make small purchases for home improvement.
Sood said the efforts to develop solutions for the affordable housing sector are part of the larger commitment of Holcim Philippines and the LafargeHolcim Group to contribute to the achievement of the Sustainable Development Goals of the United Nations.
She added that while Holcim Philippines is developing its affordable housing solutions offerings, the company has participated in projects to build quality shelters and sustainable livelihood for its communities in Davao and survivors of Typhoon Pablo in Compostela Valley.