Holcim Philippines shares success stories of female employees for Women's Month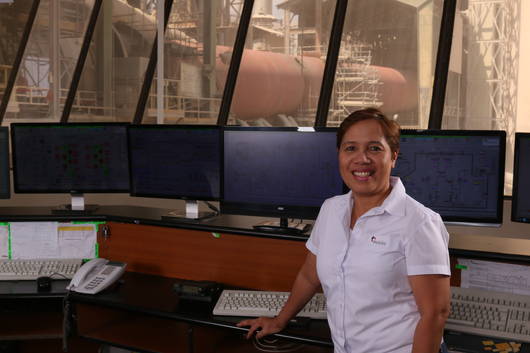 As more women join the labor force, they are steadily breaking into traditionally masculine industries and proving themselves capable in those. Construction solutions company Holcim Philippines, Inc. is among those embracing this trend, seeing value in increased diversity.
Currently, the company's Communications and Corporate Affairs, Marketing, Legal, Health and Safety, Security, and Organization and Human Resources departments are led by women. Women also play key roles in Holcim Philippines's operations, with a woman heading its Davao plant and ladies holding line management jobs in its ready-mix concrete and aggregates business. Overall, about 20% of the company's workforce is female and it is looking to raise this to 30% by 2030, in line with the LafargeHolcim Group's diversity goals.
Throughout March, Holcim Philippines is sharing on its Facebook page the stories of female employees who are making their mark in the company as it joins the entire nation in celebrating the contribution of women to society this National Women's Month.
"By sharing the stories of the women of Holcim, we would like to inspire other ladies to reach for and achieve their dreams even in traditionally masculine industries such as cement manufacturing and construction," said Holcim Philippines Vice President for Communications and Corporate Affairs Ritzi Villarico Ronquillo.
Holcim Philippines President and Country CEO Eduardo A. Sahagun said it is important for the company to nurture and develop its female workforce as they are able to provide a different perspective that enriches the company.
"At Holcim, we believe in gender equality and we foster an inclusive environment for everyone. Like our cement product, the company ensures the right mix of talent possible to come up with the best collective performance. And women are proving to be a vital part of the mix as they perform crucial roles integral to our success," he said. 
Among them is Catherine Joy Guinto, who is now the production manager of Holcim Philippines ready-mix concrete plants nationwide after starting as administrative assistant five years ago.
"I was then the youngest and only female member of the ready mix concrete production team. It was challenging at first, because I felt I had to constantly prove myself. But my colleagues were very supportive, always sharing their knowledge and pointing out where I can improve. They made me confident in my job and helped me reach my goals," she said. 
The company is also willing to invest in people development no matter their gender. Steph Frogoso, currently technical assistant to the head of Cement and Industrial Performance, attests to this, sharing that she has begun her journey to become plant manager due to the support of her superiors.
"I was a geologist for four years, when the former head of the Manufacturing department launched a 'Plant Manager's Journey' program to encourage young employees to consider this role. He shared how he once headed quarrying operations in another country which inspired me to go for it as well. That we have a female plant manager, Zita Balogo, also made me confident."
For Ann Somera, head of Holcim Philippines's Large Infrastructure Projects unit, the company is a nurturing and meritocratic organization that provides opportunities to those that deserve it.
Somera shared that one of her most rewarding work assignments in Holcim Philippines is leading a project to build better roads in partnership with the Department of Public and Works and Highways.
"This deepened my appreciation of Holcim Philippines's ability to make a difference in the country through infrastructure development. I had the opportunity to work with men and women of the Public Works sector who live and breathe public service," she said.
May Escalicas, Corporate Social Responsibility Officer for the Davao Plant, points to the value women bring to the company aside from technical knowhow.
"Holcim Philippines has this culture of giving back to communities that I love. This drew me to the corporate social responsibility (CSR) team of the plant. Personally, I think women bring a sense of kalinga. I believe that aside from technical knowledge, the care and passion for community is important in CSR," she said.
For more inspiring stories about the women of Holcim, visit www.facebook.com/holcimphilippines/