Holcim Philippines wins Philippine Quill Awards for sustainability publications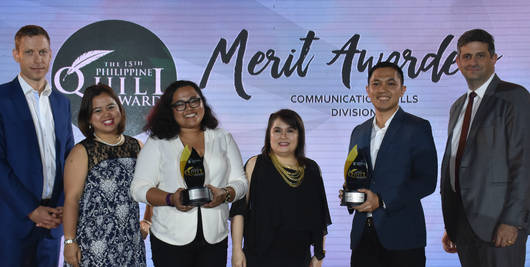 A collection of finalists' stories in its journalism contest on sustainable construction and a calendar featuring the rich biodiversity of the rehabilitated quarries near its plants won building solutions provider Holcim Philippines, Inc. recognition in the 16th Philippine Quill Awards given by the International Association of Business Communicators (IABC) Philippines.
Holcim Philippines took home Philippine Quill Awards of Merit for the Communication Skills-Publication Category for "Winning Stories of the Journalism Awards on Sustainable Construction Reporting (JASCOR) 2014-2015" and "Holcim 2016 Biodiversity Calendar and Gift Cards" during the recent  Philippine Quill Awards.  Affiliate LafargeHolcim Aggregates, Inc. also bagged a Philippine Quill Award of Excellence for its community newsletter "Sulong Angono."
The first was a compilation of the 10 shortlisted stories in the JASCOR, a journalism contest that Holcim Philippines runs with the Philippine Press Institute to promote reporting on the construction industry with a perspective of sustainability. The second was a calendar and a set of gift cards for internal and external shareholders that featured some animal and plant species found thriving in rehabilitated sites by a baseline study conducted by scientists from the University of the Philippines that illustrate the company's commitment to environmental stewardship.
The Philippine Quill is one of the most coveted awards in the country in the field of business communication. It is awarded annually by IABC Philippines to organizations for excellent use of communication to achieve business goals, with communication experts and seasoned practitioners as judges.
IABC Philippines is the country chapter of the San Francisco, California-based IABC, one of the largest business communication organizations in the world with some 11,000 member-professionals in over 70 countries.