Holcim Philippines supports LGU, DSWD community relocation project in Davao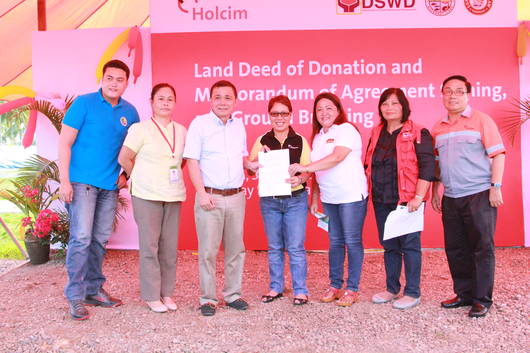 More than a hundred families living along the flood-prone banks of the Ilang River will be relocated to a safer community to be built through the partnership of cement maker Holcim Philippines, Davao City's government agencies and the project's beneficiaries.
Holcim Philippines's Davao plant partnered with the Department of Social Welfare and Development (DSWD), the City Social Services and Development Office (CSSDO), and Barangay Ilang for the project.
Holcim Davao turned over on 9 September 2015 a three-hectare land for the relocation site. The company also empowered the beneficiaries through trainings on masonry, carpentry, welding, electrical and concrete hollow block making. The trainings allow the beneficiaries to participate in building their new homes and give them new skills for livelihood. The company's total contribution to the project is worth Php 72 million.
Holcim Davao Plant Manager Zita Balogo said the company supported the project in line with its commitment to assist the development of its communities.
"Wherever our company operates, it's our commitment to support projects that uplift the community. We saw that the families used to live in an area that becomes heavily flooded during rainy season. By backing this project, we hope to help improve their lives by providing them a safer place to live and equip them with new skills for additional livelihood options," she said.
The DSWD provided the Php11 million funding for the construction of the housing units, while the CSSDO will organize the families to be self-reliant. The Brgy. Ilang Local Government Unit will be in charge of project monitoring and community engagement activities.