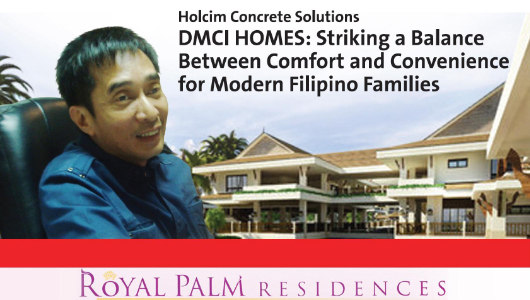 "We use Holcim because of their reliable quality and their commitment to every project," says Mr. Elmer Civil, Director of Design and Construction of DMCI Homes.
As the first triple A builder/developer in the country, DMCI Homes promises its buyers value for money with a fantastic lineup of amenities and facilities at world-standard levels of craftsmanship and quality. In spite of this, their competitors thought DMCI Homes wouldn't be able to cope with the needs of affordable housing projects. Ten years later, however, DMCI Homes has not only coped but flourished as a provider of affordable homes for young Filipinos and their families. 
With more than 50 years of leadership in the Philippine construction and development industry, DMCI has created many breakthrough solutions in the construction business. "We are one of the few companies that benefits from being both developer and contractor in one," Civil notes. "We do everything in-house. From design to construction to property management, everybody is involved from start to end.
This allows us to adjust the design and construction, as needed. " For DMCI Homes, this collaborative process reflects their company philosophy, "No one is better than all of us." It is a guiding principle that has helped them create spaces that feature the highest level of expertise and a strict adherence to global standards for every project they handle.
DMCI Homes' latest offering, Royal Palm Residences, uses a combination of Holcim 4X and Holcim Excel for its cement needs. Holcim 4X is a high-strength and high workability cement that is ideal for general construction that require optimized concrete mix designs and fast construction cycles while Holcim Excel is a higher early-strength cement specially made for general applications. Using Holcim has allowed DMCI Homes to deliver projects six months to a year before the initially projected turnover date.
DMCI Homes believes that value engineering is about building efficiently and effectively.
Mr. Civil tells us, "We see Holcim as not just a supplier but as a partner in our projects. We know that we can count on a guaranteed supply of quality cement and continuous support until the last brick is laid."
DMCI Homes has perfected a building system that combines seamless work scheduling, proper materials usage and innovative design. Their architects and engineers gain insight about the changing needs of modern Filipino families from earlier projects and use it to ensure that the next project is always their best one. Aside from implementing single-loaded corridors, they have also developed an architectural innovation called Luminventt. With lumen referring to light and ventus to wind, this remarkable new system allows free flowing natural air and light into high rise structures like the Royal Palm Residences in Taguig.
To know more about Holcim 4X and how it can help your business, contact Holcim today:
Trunkline: 02-4593333
CustomerCARECenter: 02-4593222
PLDT Toll free: 1800-100-HOLCIM (465246)
Digitel Toll free: 1800-38-HOLCIM (465246)