Walter Mart San Fernando Now Open!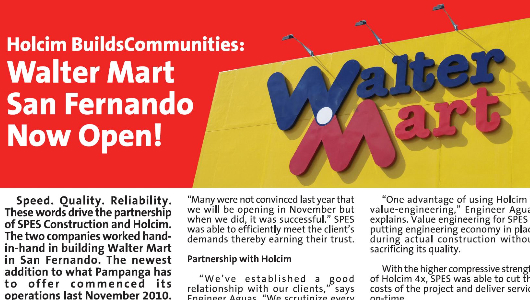 Speed. Quality. Reliability. These words drive the partnership of SPES Construction and Holcim. The two companies worked hand-in-hand in building Walter Mart inSan Fernando. The newest addition to what Pampanga has to offer commenced its operations last November 2010.
"This one is called a community mall. It can cater to the needs of the people, by giving them a place to dine, shop, do their groceries. It's also very aggressive in its expansion," assistant project manager Engineer Arnold Aguas says, referring to the newly-opened branch of Walter Mart.    
"We started the construction last March and have turned over the project. It has been operational since November 2010," he adds.
"Many were not convinced last year that we will be opening in November but when we did, it was successful." SPES was able to efficiently meet the client's demands thereby earning their trust.
Partnership with Holcim      
"We've established a good relationship with our clients," says Engineer Aguas. "We scrutinize every project given to us and we'd like to give to the clients our expertise." He also shares how their clients are always customer-oriented.
The same thing holds true for their project with Walter Mart where convenience on the customer's part is a top priority.
SPES Construction's relationship with their client also reflects the smooth-sailing partnership they have with their supplier, Holcim Philippines, Inc. It was in the year 2005 that SPES Construction started using Holcim and discovered a newfound reliable partner in it. This explains why they used only Holcim for the Walter Mart project.
Impressed with the quality of Holcim cement, Engineer Aguas shares on-going and future projects will also make use of Holcim's various products, such as WallRight, Excel, and Holcim 4x. It is indeed a ripple effect that produces positive results. SPES is able to meet its client's expectations whilst receiving quality products from one of the world's leading suppliers of cement and aggregates.
"One advantage of using Holcim is value-engineering," Engineer Aguas explains. Value engineering for SPES is putting engineering economy in place during actual construction without sacrificing its quality.
With the higher compressive strength of Holcim 4x, SPES was able to cut the costs of the project and deliver service on-time. Holcim caters to their needs by supplying quality products and a dedicated team to support their requirements.
For Engineer Aguas, this makes Holcim an ideal and reliable partner. "We would like to continue our relationship with Holcim. It's been a good working relationship. I know that Holcim can also help us in our future endeavors," he adds.
Going through each day is a breeze for the residents ofSan Fernandoand other nearby areas with what Walter Mart San Fernando has to offer.
Know more about how Holcim can help your business. Contact Holcim today!
Trunkline:         (02) 4593333
Customer CARE center:  (02) 4593222
PLDT Toll free: 1800-100-HOLCIM (465246)
Digitel Toll free: 1800-38-HOLCIM  (465246)
Holcim Website: www.holcim.com.ph