Health and Safety culture yields business benefits for Holcim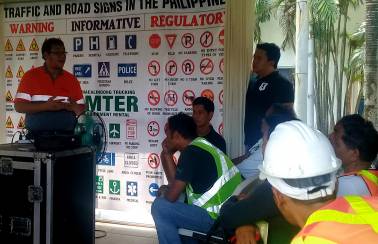 When the sales officers of construction solutions provider Holcim Philippines, Inc. visit clients, they offer more than cement. The sales team advocate health and safety practices valuable to their businesses.
Called the Customer Safety Engagement Program (CSEP), the initiative was launched in April 2016 as part of efforts to spread Holcim Philippines' health and safety culture to external stakeholders.  During the client visits, the sales team shared Holcim Philippines' health and safety mindset, inspected facilities and identified areas for improvement in storing, transporting and handling of products. The sales team, which was trained to provide practical and doable solutions, has done 346 engagements since its launch.
"This shows customers our seriousness about Health and Safety and makes them better understand why we have very strict requirements," shared Holcim Philippines Head of Sales William Sumalinog.
The effort is driven by Holcim Philippines' belief that Health and Safety, a core value of the company, is beneficial beyond its facilities. The focus has helped the company keep people within its sites away from harm and improve operational efficiency and production quality. Given its positive impact, Holcim Philippines believes it is also worth sharing to external stakeholders including customers and business partners.
The company's efforts for health and safety have been positively received. After product quality, the company's health and safety focus is the second most cited reason of business partners in choosing Holcim Philippines.
"Some were saying that we are the only ones doing this for them and they appreciated that. When our sales persons come to visit they don't just offer our products. They give inputs such as the forklifts are running to fast or the cement piling are skewed so our partners are able to address the hazards that can hurt people in their facilities," Holcim Philippines Head of Health, Safety and Security Richard Cruz said.
Knowing that instilling a health and safety mindset requires effort and time, Holcim Philippines is committed to continue engaging customers in this area especially with several providing encouraging responses.
"During the follow up visits there were some customers who showed significant improvement in housekeeping. Some have even been influenced to create their own health and safety teams," Cruz said.
Moving forward, the company would like to help customers address other important health and safety areas in their operations.
"Now that we're helping them and having opened their eyes to the need for safe practices, we need to focus on what they need such as improving the safety of their trucks and warehouses," Cruz said.