Holcim cited as Bulacan top tax payer, supports Davao beautification program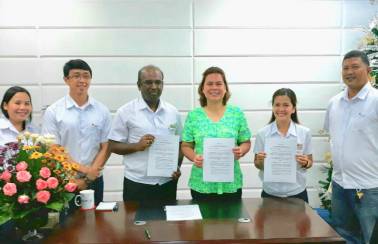 In line with its commitment to helping the country build better with certainty, building solutions provider Holcim Philippines, Inc., reiterated its support for its communities' development as it was recently recognized in Bulacan for tax contributions and supported a beautification program in Davao.
In January, the company's plant in Bulacan was cited by the Norzagaray local government as one of the municipality's Top Business Tax Payer for 2017. Mayor Geronimo Cristobal Jr. and his councilors gave the award during the State of the Municipality Address on January 22.
Holcim Bulacan Plant Manager Geert Kuiper thanked the municipality for the recognition and promised to continue being a partner in the community's development.
"We believe that we have a responsibility to support the community by following the highest standards of environmental sustainability in our operations as well as sharing our values on integrity, inclusion, responsibility, care, and respect for each individual. These core values are demonstrated in this award," added Kuiper.
In Davao City, Holcim Philippines will donate 2,000 tons of cement for the city's beautification projects in 2018. These materials will be used in building plant boxes in center islands, parks, and playgrounds in prime areas of the city.  The ongoing project is undertaken by the Davao City Environment and Natural Resources Office for its cleanliness and landscaping initiatives.
Holcim representatives led by Davao Plant Manager Xavier Kennedy met with Mayor Sara Duterte in a signing ceremony last December 2017 and expressed the company's commitment to continue supporting the city's development.
"I hope that through this partnership, we can contribute further to the improvement of Davao. From all of us at Holcim Philippines, we assure the local government that we will continue to support the city in building better with certainty," said Kennedy.
Mayor Duterte shared her gratitude for Holcim's contribution to city development and assured support for the company's future endeavors.