Holcim HELPS Marawi build over 200 houses with UN-Habitat, TESDA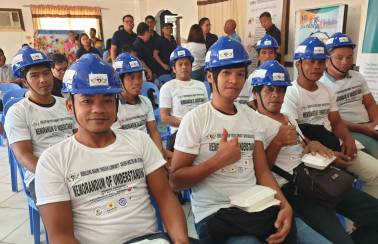 More than 200 houses for families displaced by the conflict in Marawi have been built under the partnership of leading cement manufacturer Holcim Philippines, Inc., the United Nations Human Settlement Programme (UN-Habitat) and the Technical Education and Skills Development Authority (TESDA) to support the rebuilding of the city.
The houses will benefit 1,275 individuals who were displaced due to the 2017 conflict in Marawi. Close to 40,000 bags of general purpose cement Holcim Excel were used to build the structures assisted by the 116 workers who underwent masonry training under the company's Galing Mason program. This is part of the Phase-1 of the project the UN-Habitat in partnership with the Government of Japan, the Task Force Bangon Marawi, and the Department of Human Settlements and Urban Development. The next phases are expected to commence next year.

The project is part of a multisectoral effort to rebuild Marawi after a devastating conflict there three years ago that displaced close to 80,000 families. UN-Habitat together with the Japanese government is helping build 1,500 permanent shelters and community infrastructure as well as providing livelihood support.
Holcim Philippines Vice President for Communications Cara Ramirez: "In this time of great challenge across the nation, we continue to implement corporate citizenship programs under our Holcim HELPS campaign as part of our commitment to be a partner for progress of our communities and the country. May these pockets of hopeful and positive developments remind us that we can recover and start anew. Again, a big thanks to our partners for involving us in this important project to help the people of Marawi get back on their feet."
UN-Habitat Country Programme Manager Christopher Rollo: "UN-Habitat's partnership with LafargeHolcim has benefited our partner homeowners associations, composed of families displaced by the Marawi siege, through TESDA-certified training which developed skills among the graduates who are now equipped with skills that they can use even after the project. The assured supply of cement facilitated continuous construction of houses made with high quality materials."
Mario Labisig, TESDA Region 10 Administrator for Regional Training Center: "Over the years, we strive to align TESDA programs with Holcim Philippines as our partner who share similar values and support the promotion of technical vocational education to further improve the lives of Filipinos. We are glad to see the program in Mawari to bear fruit with the skills to rebuild their community. We will continue building programs that provide sustainable livelihood and enable them to support the efforts of the government to advance progress in Mindanao."
Holcim Philippines Senior Vice President for Sales William Sumalinog also committed that the company is ready to provide reliable cement supply for the rehabilitation of Marawi and the construction activity in Mindanao.
"We are happy to know about the steady progress of Marawi. Being from a neighboring province, our plant in Lugait, Misamis Oriental is well-positioned to support the city's reconstruction with a reliable supply of high-quality cement. We are also ready to support all our partners in Mindanao as they implement construction projects that will help us recover from this year's challenges and be more resilient moving forward," he added.
Holcim Philippines signed the partnership with UN-Habitat and TESDA on September 20, 2019. UN-Habitat identified and selected participants from affected communities, while our Holcim Helps contribution is the funding of the construction competency courses on masonry and carpentry. TESDA administered the training and certified those who pass the course as certified skilled workers.