Holcim volunteers for Brigada Eskwela 2019 nationwide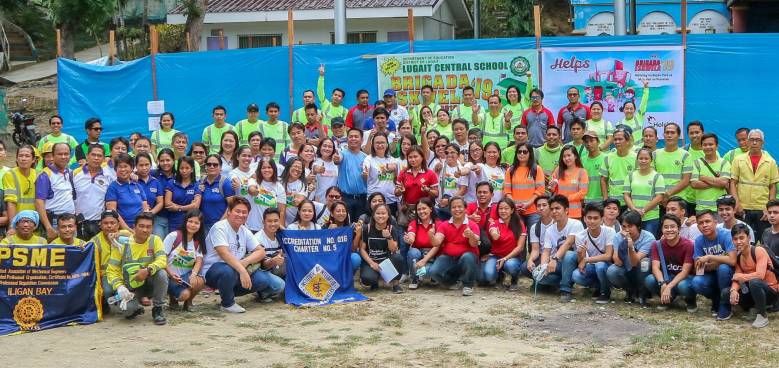 Employees of leading cement maker Holcim Philippines, Inc. again helped prepare public schools for the opening of classes as they volunteered in the Department of Education's (DepEd) nationwide Brigada Eskwela from May 20 to 27.
More than 270 volunteers from Holcim Philippines across the country helped 22 public elementary and high schools that cater to more than 10,000 students in their communities by donating building and cleaning materials, repairing classrooms and buildings, as well as cleaning and beautifying the grounds of the various campuses. The Holcim volunteers were joined by hundreds more from its public and private sector partners.
"We are glad to once again support the DepEd's Brigada Eskwela campaign. This is an annual tradition our employees look forward to. This is part of our commitment to give back to our communities by pitching in to make their schools more conducive for learning," said Holcim Philippines Vice President for Communications Cara Ramirez.
Holcim Philippines has been participating in the Brigada Eskwela since 2010. Joining this activity is part of the company's corporate social responsibility campaign "Holcim Helps", which demonstrates its commitment to be a partner in the progress of its communities.
Aside from participating in activities to prepare the schools, Holcim also conducted Health and Safety workshops in its Bacnotan Plant in La Union.
In Lugait plant, on the other hand, experts from Holcim's waste management unit Geocycle conducted a talk on the benefits of co-processing, an effective environmental solution that repurposes discarded materials from various industries into alternative fuels and raw materials using a cement kiln. 
This year, the Paratong Elementary School in Bacnotan, La Union one of the schools Holcim Philippines has been supporting, was cited by the DepEd for having one of the best Brigada Eskwela activities in the region. The school shared this recognition to Holcim and its other partners from the private sector.