Holcim digital innovation eases customer transactions with online portal, app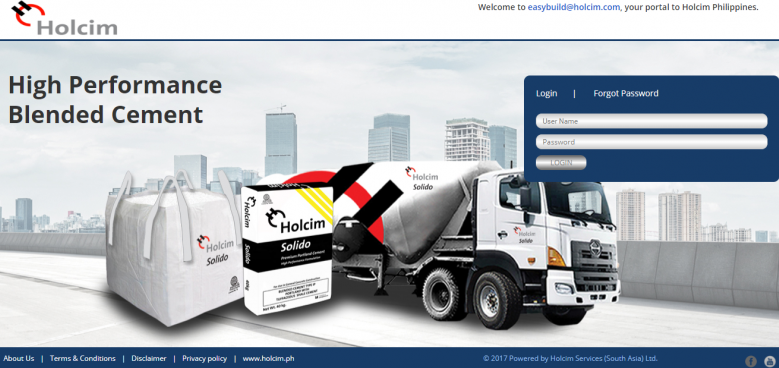 Holcim Philippines has enhanced its online customer service portal to further improve services to channel partners as part of its innovation thrust.
Leading cement maker Holcim Philippines, Inc. has enhanced its online customer service portal and made this available as a mobile app, as part of its innovation thrust to further ease channel partners' transaction with the company and adapt to an increasingly digital environment.
Called Easybuild, the customer service portal provides channel partners a 24-hour connection with Holcim Philippines and solutions for a hassle-free experience in placing orders, checking delivery status and reviewing account history and credit standing, among others. Easybuild is also meant to lessen the administrative tasks of customers and smoothen their transactions with the company so they can give more attention to improving and growing their business.
Close to 700 of Holcim Philippines' channel partners are already using Easybuild, which was launched last year. It is the latest version of Holcim Philippines' online customer service portal, which it pioneered in the cement industry in 2001.
Easybuild sends an SMS and email to users once the order is confirmed and allows customers to track orders removing the need for constant follow ups. The portal provides customers an option to have orders delivered at their preferred sites. Holcim Philippines has initially partnered with leading financial institution Metrobank for an online payment facility.
Holcim Philippines Senior Vice President for Sales William Sumalinog said the improvements to Easybuild are important in keeping up with the growing digital habits of customers.
"The advances in digital technology allow our company to continuously refine and develop new tools that enhance our service to customers. Easybuild further demonstrates to customers our commitment to improving our offerings through innovations that respond to their needs," added Sumalinog.
Aside from easing transactions, Easybuild also provides information on the company's commercial offerings to help channel partners guide their own customers in using Holcim products.
Customers may check their accounts at https://easybuild.holcim.com. Easybuild is available as an app on Andriod, with iOS version to come out in August.