Holcim engages DTI, DPWH on support to Build program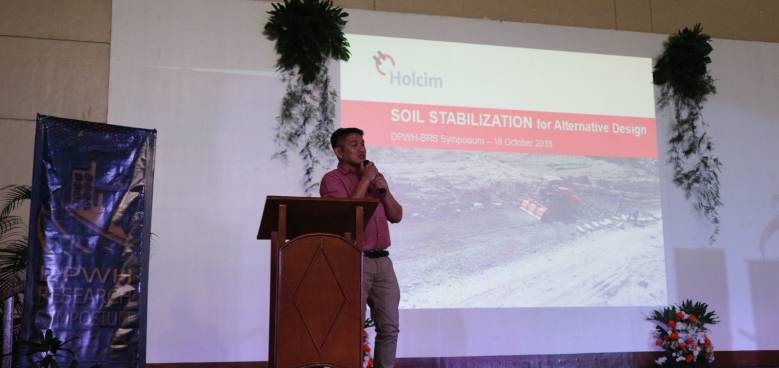 Holcim Infrastructure Head John Edward Reyes discusses soil stabilization technology for building more durable roads in the DPWH's rapid construction forum.
Building solutions provider Holcim Philippines, Inc. assured key government stakeholders of its commitment to the robust building activity in the country as it shared the expansion of its La Union cement plant and new technologies for improved local road construction.
On October 26, Holcim Philippines executives toured officials of the Department of Trade and Industry led by Undersecretary for Consumer Protection Ruth Castelo to its La Union plant and briefed the DTI delegation on the company's support for the strong construction activity in Northern Luzon.
Holcim Philippines Senior Vice President for Sales William Sumalinog and La Union Plant Manager Erano Santos highlighted the ongoing project to raise the facility's annual cement production capacity to 2 million metric tons by the first half of 2019. The company initiated the project last year to meet the increasing cement demand in the region.
Also on October 18, Holcim Philippines presented its soil stabilization technology in the 4th Research Symposium on Rapid Construction Methods by the Department of Public Works and Highways' (DPWH) Bureau of Research Standards (BRS). Eleven other research studies were presented during the forum on new technologies that can help the government's "Build, Build, Build" infrastructure program.
Holcim Philippines Head of Infrastructure John Edward Reyes discussed how soil stabilization technology can help the DPWH and local contractors build more durable roads and execute these faster and within budget.
Reyes noted that soil stabilization enables projects to avoid durability issues from having less than suitable ground as sub grade and delays caused by inclement weather. The technology can also help address the scarcity of quality aggregates and lessen emissions from transporting more suitable soil for projects. He cited road projects in Davao in April that realized cost and time savings after the contractor and Holcim applied soil stabilization technology.
DPWH BRS Director Reynaldo G. Tagudando said it is important for the government to explore new methods and technologies that can speed up the implementation of the Build program given its scale and timelines. He cited the soil stabilization technology as among the promising innovations that can improve local road building. Tagudando added that the BRS will further study these technologies and issue a department order allowing their use if these are proven to deliver their promised benefits.
Holcim Philippines Head of Sales William Sumalinog said: "These dialogues are helpful in updating government about our programs that support infrastructure development in the country. We will continue these engagements to reiterate our commitment to contribute more than cement to the nation's progress."